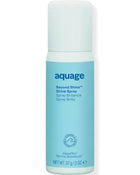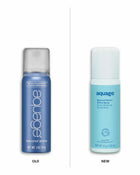 Description: 

Ultra-light silicone polish.

What it is:

A fine-mist silkening and glossing spray that creates brilliant shine on any style. A thermal-pressing product that polishes, silkens and smoothes curly texture when used with a ceramic flat iron.

Why you should use it:

Gives your style a brilliant gloss. Protects hair against damage from thermal styling tools. Improves hair's condition as it smoothes the cuticle and eliminates frizz. Creates a humidity-resistant barrier that controls your style in high-humidity conditions.

When to use it:

Use on either clean, dry hair or on hair that's been freshly styled with an Aquage styling product.

How much to use:

Spray in quick, short bursts, 8 to 10 inches away from the hair until the desired level of shine is achieved.

How To Use:

To add the final touch of shine to any style, spray from 8 to 10 inches away from the hair and move toward the ends for maximum shine. When used with a ceramic flat iron, work on sections no larger than 2 inches wide and ¼ inch in depth, to maintain control. Spray both sides of the section from 8 to 10 inches away from the hair to ensure complete coverage. Begin pressing at the roots and work toward the ends using a comb to detangle the ends as the ceramic flat iron passes through the hair Alternate pressing and combing until a silky, smooth texture is achieved.