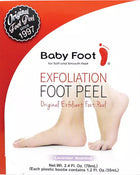 Baby Foot is an innovative foot care product that will make your feet as smooth and soft as a baby's foot. The unique formula of 17 types of natural extracts allow your feet to exfoliate naturally leaving them highly moisturized. This effective and gentle process removes the unwanted dead skin cells that have built up layer after layer. So say goodbye to rough, dry, cracked soles, by using a product that really works! 

Baby Foot Easy Pack is an easy three-step process: apply, soak, then wash away. It takes only one week* to remove the dead skin cells from the sole which means only one application to make your sole like a baby's. Dead skin cells will start to peel between 3 - 7 days after your initial application. Do not forcibly remove the dead skin cells when peeling begins. It will exfoliate gently and naturally. In some instances the skin may become dry until the peeling begins. Should this occur, moisturize lightly and sparingly with an oil-free beauty care product.

Peeling time may vary from person to person and can take up to 2 weeks to complete. If you feel that a second application is needed, then wait 2 weeks after the 1st treatment and reapply.